Our Partner for After-Hours, Weekend, and Holiday Veterinary Urgent Care for Pets
We'd like to introduce you to UrgentVet, one of our local partners for after-hours, weekend, and holiday care for minor injuries or illnesses in cats and dogs. UrgentVet is an affordable alternative to the emergency vet. We partner with them to make sure your pet can receive care during those times when we are closed and can't be there for you.
More Information from UrgentVet
UrgentVet is an affordable alternative to the emergency veterinarian, offering the prompt peace of mind you need when your dog or cat is ill or injured. Get walk-in veterinary care or save your spot online.

Immediate Care with No Appointments
Like an urgent care center for people, UrgentVet provides prompt veterinary care for dogs and cats. UrgentVet takes care of illnesses and injuries that require immediate attention – but aren't serious enough to warrant an expensive trip to a 24-hour emergency hospital.

UrgentVet Understands What Urgent Means
UrgentVet's mission is simple: to be there for your pet when your primary care vet can't. With a goal to provide quick, convenient, affordable care 365 days a year, save your spot online or just walk-in.

Open Nights & Weekends
See our Hours – Locations page for details. UrgentVet is even open on holidays. With UrgentVet, you can bring comfort and relief to your pet whenever it's needed.
UrgentVet Veterinary Clinic is Available When You Need Help and Your Primary Veterinarian is Closed
UrgentVet provides immediate relief for mild illnesses and minor injuries that occur in dogs and cats. UrgentVet is open every day of the year and on average, visits are up to 40% less than regular pet emergency hospitals.
Common conditions treated include: vomiting, diarrhea, lameness, urinary tract disease, skin and ear conditions, eye problems, lacerations, scrapes, respiratory ailments and stomach concerns.
UrgentVet offers online check-in so that you and your pet can wait in the comfort of your home until it's your turn to see the doctor, or simply walk-in. If it's after hours and your pet isn't feeling well, you can turn to UrgentVet. After your visit, UrgentVet will be in contact with your pet's primary care veterinarian regarding any subsequent needs or follow-up.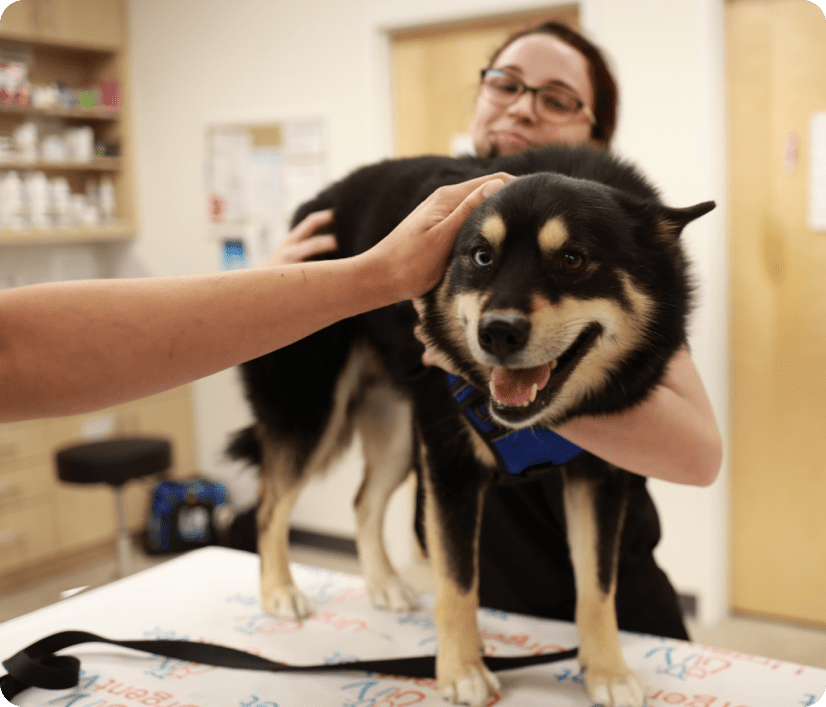 UrgentVet treats cats & dogs – providing pet urgent care for non-life-threatening conditions that happen after your regular vet is closed. Here are some examples of the types of illnesses and injuries they treat.

PET ILLNESS
Coughing, Sneezing
Diarrhea
Dehydration
Excessive Drinking
Eye Discharge & Squinting
Fever
Not Eating or Not Drinking
Poison/Toxin Ingestion
Skin Allergies – Itching, Rashes, Hot Spots
Upper Respiratory Infections
Urinary Tract Problems – Frequency, Straining or Blood
Vomiting

PET INJURY
Abscesses
Back Pain
Cuts & Scrapes
Fracture Assessment
Mild Lameness
Limping
Minor Wounds & Lacerations
Pain Management
Post-Op Incisions
Toenail Injuries
Trouble Walking

JUST NOT FEELING WELL
Allergies
Anal Glands – Scooting, Licking
Anxiety & Motion Sickness
Bad Breath
Bites & Stings
Ear Infections – Head Shaking, Ear Discharge
Hiding or Whining
Hives & Facial Swelling
Lumps & Bumps
Parasites
Vaccine Reactions
UrgentVet Does Not Treat Life Threatening Emergencies
Proceed immediately to the nearest veterinary Emergency Hospital, not UrgentVet.
Hit By Car
Pneumonia
Amputation
Kidney Failure
Overnight Hospitalization